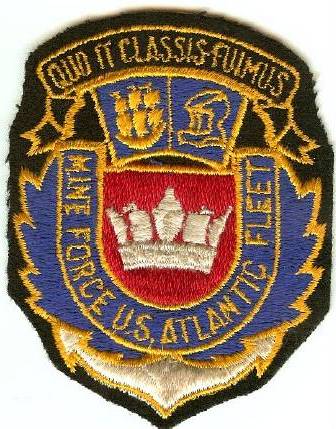 Humanitarain Service Medal -1 Cuban Boatlift 1980
Navy Expeditionary Medals - 3
The second Exultant (AM-441) was launched 6 June 1953 by Higgins, Inc., New Orleans, La.; sponsored by Miss A. Brooks, and commissioned 22 June 1954, Lieutenant R. T. Gregory in command. She was reclassified MSO-441 on 7 February 1955.
Exultant first tied up at Charleston, her home port and headquarters for the Mine Force, Atlantic Fleet, 23 July 1954. Along with the coastwise training operations vital to maintaining her readiness, she cruised to the Mediterranean to serve with the 6th Fleet in 1955, 1957-1958, and 1959-1960. During all of these tours of duty, she exercised with ships of other NATO navies, joined in fleet operations, and visited a large variety of Mediterranean ports.
In both 1956 and 1957, Exultant spent a month in northern waters, in 1956 exercising with minesweepers of the Royal Canadian Navy out of Halifax, Nova Scotia, and in 1957, participating in cold weather sweeping operations out of Argentia, Newfoundland. Her other activities through July of 1960 included fleet operations in the Caribbean, as well as individual training there, amphibious exercises on the beaches of North Carolina, and participation in experimental operations in the development of mine warfare.
On 12 August 1960, while underway off the east coast, Exultant suffered extensive interior damage from a flash fire in her engineering spaces. Valiant performance of duty by the minesweeper's damage control parties, and gallant help from Nimble (MSO-459) extinguished the flames and enabled Exultant to return safely to port. Five of Exultant's crew lost their lives in the blaze.
Engineman 2nd Class
Thomas S. Baker
Engineman 2nd Class
Jackie W. Byrd
Ensign
David J. Gaignard
Engineman 3rd Class
William C. Glenn
Engineman 3rd Class
Michael J. Nemeth
On 30 April 1980, President Carter ordered the Navy to divert ships scheduled for a Caribbean naval exercise to assist in rescuing Cuban refugees who were in distress aboard overcrowded private vessels. On 1 May, the Department of Defense announced that Atlantic Fleet ships would be diverted from Exercise Solid Shield 80 to assist the U.S. Coast Guard in the Florida Straits. Navy ships assigned to the operations included: LHA-2 Saipan, LST-1190 Boulder, LPD-15 Ponce, LSI-1188 Saginaw, LPD-12 Shreveport, MSO-448 Illusive, MSO-490 Leader, MSO-443 Fidelity, MSO-441 Exultant, MSO-431 Dominant, MSO-433 Engage. On 9 May, a landing craft from LHA-2 Saipan took 140 Cuban refugees aboard. On 3 June, President Carter authorized the involuntary call-up of USCG reservists to take over the regular duties of Coast Guard personnel assigned to aid with the Cuban refugee operations.Awarded Humanitarian Service Medal for this operation.