WOODEN SHIPS & IRON MEN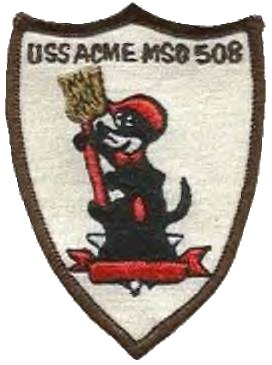 Acme Class Minesweeper: Laid down 16 November 1954 as AM-508 at Frank L. Sample Inc., Boothbay Harbor, Maine; Redesignated an Ocean Minesweeper, MSO-508, 7 February 1955; Launched, 23 June 1955; Commissioned USS Acme (MSO-508), 4 March 1957; Decommissioned, 6 November 1970 at Naval Inactive Ship Facility Long Beach, CA; Laid up in the Pacific Reserve Fleet; Struck from the Naval Register, 15 May 1976; Sold for scrap 6 January 1977 by Defense Reutilization and Marketing Service to Oskco Edwards of Capistrano Beach, CA. for $30,000.
Specifications: Displacement 633 t.(lt) , 750 t.(fl); Length 173'; Beam 36'; Draft 14'; Speed 14 kts; Complement 8 Officers, 70 Enlisted; Armament one 40mm gun mount, replaced with twin 20mm , two .50 cal. machine guns; Propulsion, four Packard diesel engines, two shafts, two controllable pitch propellers.
These new minesweepers were smaller and built primarily of wood , with bronze and stainless (non-magnetic) steel fittings to minimize their magnetic signature. All of the 1950 era MSOs had UQS-1 mine-locating sonar, later updated with VDS sonar. MSOs were capable of sweeping for moored, bottom contact, magnetic and acoustic mines.

CALL SIGN

NOVEMBER ECHO WHISKEY VICTOR
WOODEN SHIPS AND IRON MEN a book by CDR David D.Bruhn USN RET.The history of our MSO's from 1953 to 1994.